Be an ADRA Ambassador at your school
ADRA has launched a School Ambassador programme as a way of educating and empowering young people to make a difference in their school, their local community, and their world.
Through the ADRA Ambassador programme, we'll work alongside senior students and provide opportunities to learn about development, leadership experience within their schools, and the ability to make a lasting difference. 
What does a ADRA Ambassador do?
An ADRA Ambassador will be the voice of ADRA in their school. They will help raise awareness about ADRA's work and will be expected to help run one fundraiser and make announcements to their school. 
A full Job Description, including expectations for the student is available to view and download here.
How will ADRA support me?
You'll work alongside a representative from ADRA who will be there to support you.
When you first sign up, the ADRA rep will send you a Welcome pack and organise a meeting with you (either in person or on Zoom).
Our team is there to help, we'll be able to talk about your schools current capacity and decide on the best ways to engage.
In your Welcome pack, we'll resource you with everything you need to start making an impact.
What will I get from becoming a ADRA Ambassador?
You'll have the opportunity to learn about development in a community setting. You'll also develop your leadership and communication skills in a supportive environment. 
After your service, ADRA will also provide a certificate of recognition which demonstrates your community engagement, the certificate and a reference from your ADRA representative can be used in job and university applications.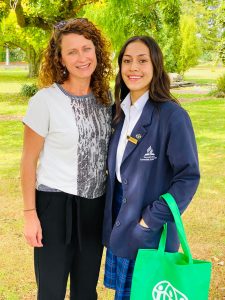 Mia from Longburn Adventist College is our first ADRA Ambassador! 
Mia has already shared a presentation in front of her school about ADRA's impact and is keen to get her school fundraising to support families who have been impacted by COVID-19 in India, PNG, and Nepal.  
If you haven't already talked to a teacher, we encourage you to do so as your school may already have a system for selecting their ADRA representative. 
After submitting your details, an ADRA team rep will be in touch with you about your next steps. Thanks for applying!