Community Transformation Partnerships
Our dream for New Zealand is to see every church actively engaging in the needs of their communities. In order to support churches and organisations who want to address a need within their community, we have established Community Transformation Partnerships.
If you're already involved in a CTP project and are wanting resources and support from ADRA, please click the button below:
Our Vision for New Zealand:
We have a range of ready-made projects you can apply for. 
Are you ready to give your health and happiness a boost?

The Live More Project brings together scientifically-proven strategies from Neuroscience, Psychology and Lifestyle Medicine into a fun, experiential and life-enhancing program helping people improve their health, happiness and wellbeing around the world.

How does it work?

More than 15 years in the making, the Live More Project is changing lives around the world. Participate with a group (in person or online) and journey together, which is an important aspect of the program's success.

Once a week you will watch a short presentation that outlines your activities for the week and the science behind them. You can connect to the program, and to your fellow group members, on any web-enabled digital device.

Throughout the week, perform daily challenges which you log in your digital journal and share with your group. This enables you to learn from each other as you share and discuss your challenges.

Before and after the ten week program, you will complete the 7 Dimensions of Wellness questionnaire, which maps your wellness indicators through the programme. On completion, you will be able to objectively qualify any improvements in health and happiness.

What's in the programme?
Your Limbo Is Listening

Motion Creates Emotion

Blue & Green Should Often Be Seen

Together Feels Better

Feelings Follow Your Focus

Food Feeds Your Mood

Rest To Feel Your Best

Stress Less

Giving Is Living

What Does It Take To Flourish?
Below are the available options you can offer your community through a Sorted CTP programme: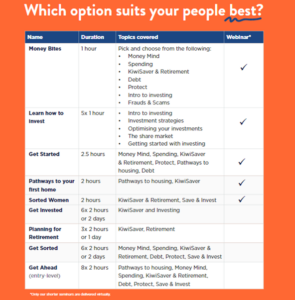 Our amazing community champions are making a real difference in the lives of others. Check out some of the stories from our projects below:
We're here to help! You can get in contact with ADRA by calling 0800 499 911, or emailing [email protected] at any time.
Before applying, we would encourage you to thoroughly think through your communities needs and your churches volunteer and resource capacity to ensure you are best meeting the needs of others. We have a handbook and other resources available for you to view to help guide you through the application process. 
When you're ready, download the application form, fill it in and send it through to our programme manager, Sally Lavea: [email protected]. 
After submitting your details, an ADRA team rep will be in touch with you about your next steps. Thanks for applying!
We have a range of resources available to help you as a Champion in your community! If there is anything you need specifically, please feel free to fill in our contact form below.
In 2021 we hosted our first Champions Conference in partnership with NZPUC. We have a range of resources and videos from the conference we have available to share. View and download by clicking the button below.
Each month our Champions network meets over Zoom to share, encourage one another and learn how to best serve their communities. Contact [email protected] for the invite link and check out the videos available below.
For any further questions or support, please fill in the contact form below and an ADRA team member will be in touch with you.
Our work wouldn't be possible without the support of our amazing partners and funders. A big thank you to the following organisations: