Building belonging for Hana
Hana is a fourteen year old girl who lives in rural Vanuatu with her grandma, grandpa and an uncle. 
She was born without her eyesight and has never been able to see. Throughout her life she has constantly felt forgotten and excluded by her own community. 
Hana does not attend school. There is no special education teacher in her village able to teach her. Instead, she stays at home with her grandparents, helping around the house and on the family farm.
She often sits inside listening to other children her age laughing and playing outside. 
More than anything else, Hana wants a friend.
Her blindness makes it difficult for her to connect with her peers. With no accessible buildings or pathways in her village, she is scared to navigate anywhere outside of her home alone. She depends on her grandma to act as her guide.
"I had so much fear trying to climb up steps," Hana shared.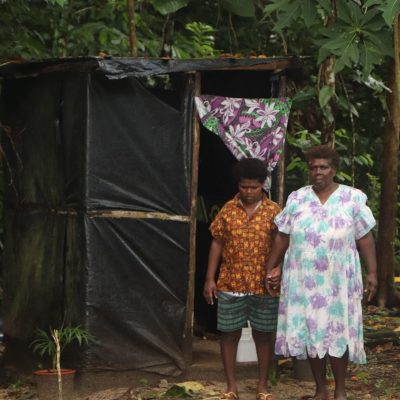 In developing countries, people with disabilities are more likely to experience the impacts of poverty, lack of access to essential health facilities, and social isolation. This in turn negatively impacts their health and wellbeing creating a vicious cycle of disadvantage.
When ADRA came to Hana's village, the entire community, including Hana, were invited to share what their needs were. Never before had Hana been asked what she needed to make her life better. 
Hana shared with our team that she was scared to walk to community facilities alone, she was worried she would fall and hurt herself. 
ADRA, through the generosity of our amazing supporters received a community health centre with a disability ramp and handrail. 
This means that Hana can now independently visit the health centre and access health care and community services any time she wishes. 
"I can walk into the [community health centre] myself without the support of my grandmother."
Hana's grandma was crying the first time she saw Hana walk to the community centre by herself; she was so glad her granddaughter could experience independence, dignity and belonging. 
Hana's dream in life is to become a nurse so she can take care of her family and her
community. She wants to reach other people in her community in the same situation as she has been in.
Without an education, she knows the road ahead will be difficult, but the actions of supporters like you have helped give her hope. "I am having high hopes that one day my dream will be fulfilled."
Your gift by October 30 can provide people with disabilities, just like Hana, with health facilities and support services they need to improve their wellbeing. Help build belonging, today! Donate today at adra.org.nz/belong.