"In all my life, I always feel that people like me, with a disability, are never thought about when aid and assistance comes to our communities" – Ruth
Ruth (68) lives in Linduri, a rural village in Vanuatu. The village is surrounded by dense bush and ocean, it takes a one-hour boat ride to get to from the mainland, and only if the seas are calm enough to allow the journey.
Ruth was born with a disability in her legs leaving her unable to walk or stand. Throughout her life she has struggled because of this.
With no wheelchair for mobility, Ruth sits on a worn-out mat, woven from leaves of the coconut trees that surround her home. She uses this mat and the strength in her arms to move her body from place to place.
Daily tasks are difficult for Ruth, her village does not have the infrastructure to allow her to access community facilities, such as toilets, or handwashing stations.
"It was very hard to keep relying on my relatives to do things for me that I know I could do on my own if it was accessible. It was very un-dignifying" Ruth shares.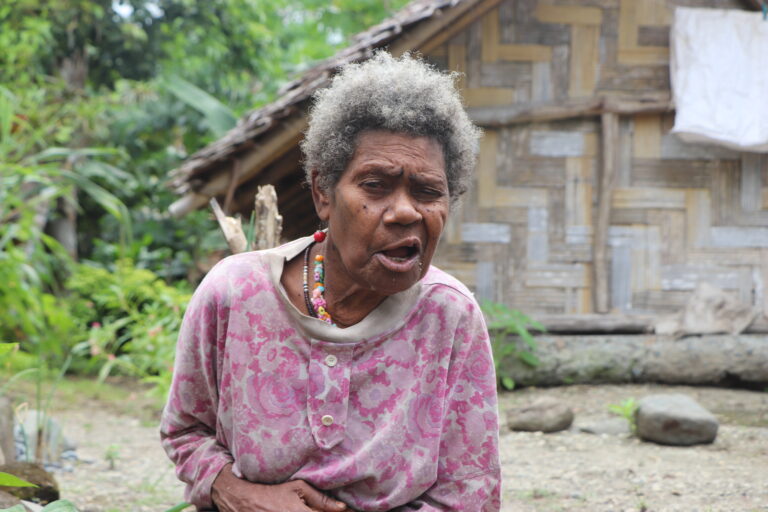 The closest toilet to Ruth's home is located 100m away. Each time Ruth needed to use it, she would need the help of a family member to reach it.
"In all my years of living I still feel very embarrassed by this, and I feel very useless when I cannot do these things myself" Ruth shares, "I want to be independent."
In April 2020, a category 5 cyclone swept through Vanuatu. It destroyed thousands of homes and livelihoods. Toilets, water pipes, farms and community gardens were flattened by the devastating storm. People were left without shelter, electricity, access to clean water and toilets.
Then ADRA arrived in Ruth's village. Ruth was incredibly grateful to see boatful of emergency supplies arriving, but she never expected ADRA to ask about what she needed.
"This is not the first time Linduri has experienced this type of devastation", Ruth reflects "but this is the first time an organization has come into our community and asked me what my needs were, and what they can do to accommodate my needs."
Along with shelter and dignity kits, ADRA helped rebuild infrastructure in Ruth's village. Restoring damaged water pipes to ensure people had access to safe drinking water, and safe latrines.
After consulting with Ruth and understanding her needs, an accessible latrine and handwashing station was built outside Ruth's home.
Now Ruth has access to a toilet she can use without needing the help of others.
"The latrine gives me new confidence, and a sense of independence, which is a new feeling, and I would like to feel more of this for the remaining of my life on earth."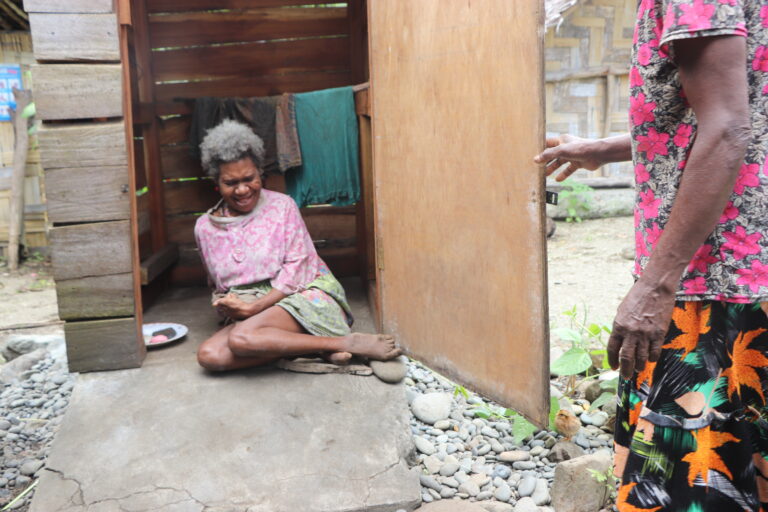 "I do not feel shameful anymore" Ruth shares, "Especially in dirtying myself to climb on to the toilet seat; I do not have to ask my family anymore to lift me up to the toilet seat."
An accessible toilet has brought so much hope and dignity to Ruth's life.
"It may seem small to everyone else who is able, but to me, this gives me new confidence, and a sense of independence."  
Your gift today can give people like Ruth access to hygiene facilities they need to have independence and keep safe. Give Today.