Below is an email sent out to church leaders with an update on ADRA and the SDA church's response in Ukraine:
Kia Ora Leadership Partners,
As the situation in Ukraine continues to intensify, ADRA is present and responding to the escalating needs of those affected.
I'm reaching out to share with you as church leadership how we are currently responding. In February we received a special offering and donations to help us respond in Tonga and prepare for other emergencies, and now, thanks to generosity from our donors and churches, we are able to invest in help families affected by conflict in Ukraine. To date we have received almost $18,000 from donors reaching out to give towards the Ukraine response.
What ADRA and the SDA Church are Doing:
ADRA and our sisterhood of Seventh-day Adventist churches in Ukraine and surrounding countries are working together to help where and however they can.
Ukraine: Housing displaced people in churches, helping transport individuals in transit to safety, providing supplies to shelters and churches housing displaced people.
Poland: Providing arriving refugees with emergency packages including hygiene items.
Slovakia: Supporting refugees at the border with basic needs, psycho-social support and refreshments.
Romania: Coordinating accommodation for refugees and providing food hygiene, and clothing to displaced persons.
Hungary: Established a contact point for refugees and working with local Adventist churches to provide temporary housing.
Our teams on the ground in each country are continuing to adapt their activities to serve the greatest needs of people.
Below is a news segment which shows our ADRA, Adventist Development and Relief in ACTION: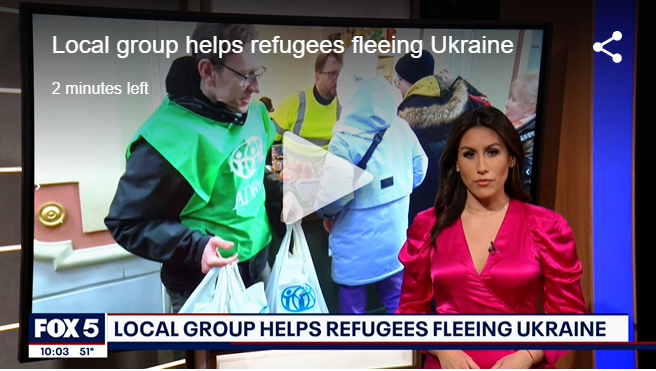 What our Church Community here can do:
Right now we are calling on all our church community here to pray.
Pray for the people of Ukraine, those that remain and those that have fled for safety, and pray that the peace of God, which transcends all understanding, will guard their hearts and minds amidst the turmoil. (Philippians 4:7)
Pray for the countries receiving refugees, that they have compassion.
Pray for humanitarian workers on the ground.
Pray for the leaders behind the crisis to have a change of heart.
Please know that if churches feels compelled to give, ADRA is partnering with our offices in each of the countries listed above to provide ongoing support for Ukrainian families. Information on how to give is available here.
We have a PowerPoint and Video available for churches to share if they choose to.
Download Video
Download Slide: Image | PowerPoint File
Дякую, Ngā mihi, and Thank You!
Thank you for your continued partnership, prayers and support. It's inspiring to see the amazing things we are achieving when together as the church we reach out in care of others.
Please feel free to reach out with any questions, we will continue to update information about our response on our website and social media pages.
Noho ora mai God bless,
Keryn McCutcheon
General Manager, ADRA New Zealand